Night
Ahmad Saleh
Germany, 2021, 16 min.
In Arabic with English subtitles.

AIFF Award Winner:
Jury Award for Creative Achievement
The dust of war keeps the eyes sleepless. Night brings peace and sleep to all the people in the broken town. Only the eyes of the mother of the missing child stay resilient. Night must trick her into sleeping to save her soul.
Director's Statement
A sea of people panicking, running in one direction. Heavy shooting behind us. With each gunshot, all the people would bend down while running in one synchronized move. One person appeared in between all the people. She noticed that I noticed her, and so she walked right towards me. She held my arms and begged with a faded voice: please tell me that she is dead. I naively asked: who is she. My question shocked her as an arm would wake a sleeping person. She felt embarrassed and walked away then started calling in a surprising loud voice: daaaughteeeer. She kept walking and calling leaving me with a question that I couldn't solve. Why would a mother wish to hear that her daughter is dead? She was begging for it as cancer patient would beg for morphine. I don't know where the mother is now but I wanted with this film to tell her what she wished for, so she can finally fall asleep. Based on actual events, translated into puppet animation.
Category: Animation, Award Winner.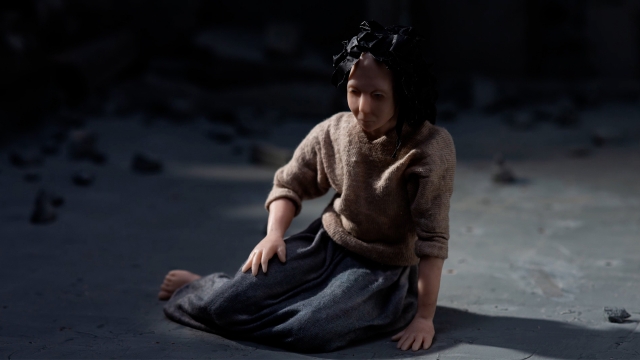 More in Animation
Patrick Smith
United States, 2022, 4 min.

A winsome mutation is shunned by a homogenous tribe of siblings... more ›

David Shen Miller
United States, 2023, 9 min.

Trapped inside a room covered with muddy footprints, a man will stop at nothing to mop the floor perfectly clean. But with every step he takes to wipe away a... more ›