Room
Ian Dani Kim
United States, 2022, 9 min.
In English and Korean with English subtitles.
This film is family friendly.
AIFF Award Winner:
Best of Indie Youth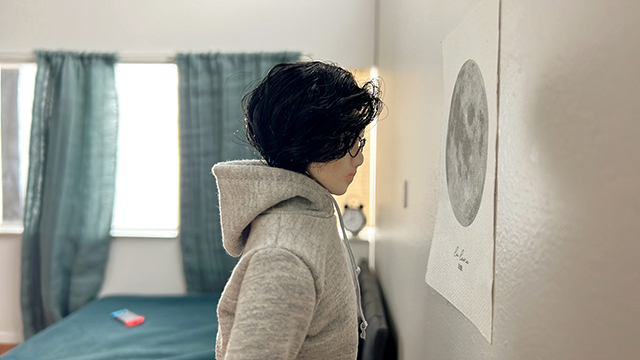 A teenager struggles with depression and social anxiety, expressing it through locking himself in his imaginary room where his life plays out. The film is shown from the boy's perspective in his "room" showing how real life events affect him in it. Since the pandemic began, many teenagers have experienced feelings of isolation and some of them still struggle to overcome their depression even after the pandemic subsides as this boy can't get out of his psychological lockdown.
Director's Statement
I love stories and visuals, and I've been eager to be a film director who harnesses both. My mind is always percolating with ideas, and I am enthusiastic about expressing them with inventive stories and unique visuals. But what draws me the most to film is that they reflect human lives, and audiences reflect on their lives through films.
Category: Animation, IndieYouth, Award Winner.
More in Animation
Ernie Berger
United States, 2022, 5 min.

A zany character experiences his first day in a new job operating a mobile crematorium. A fool with fire. What could go wrong?... more ›

David Shen Miller
United States, 2023, 9 min.

Trapped inside a room covered with muddy footprints, a man will stop at nothing to mop the floor perfectly clean. But with every step he takes to wipe away a... more ›

Ina Conradi
Singapore, 2023, 6 min.

A female astronaut is drawn to a mysterious force in a cave, leading her on a journey of self-discovery and connection with the universe. The film reinterprets... more ›