Imagining the Indian: The Fight Against Native American Mascoting
Aviva Kempner
Ben West
United States, 2022, 95 min.
In English.
Includes violence and adult language.
AIFF Award Winner:
Special Jury Award tor Activist Filmmaking
Imagining the Indian is a comprehensive examination of the movement to eradicate the words, images, and gestures that many Native Americans and their allies find demeaning and offensive. The film takes a deep dive into the issues through archival footage and interviews with those involved in the fight. The psychological research is clear: the use of Native American mascots is detrimental, not only to Native people, but to marginalized groups everywhere.
Category: Documentary, Award Winner.
Themes: Native American, Sports.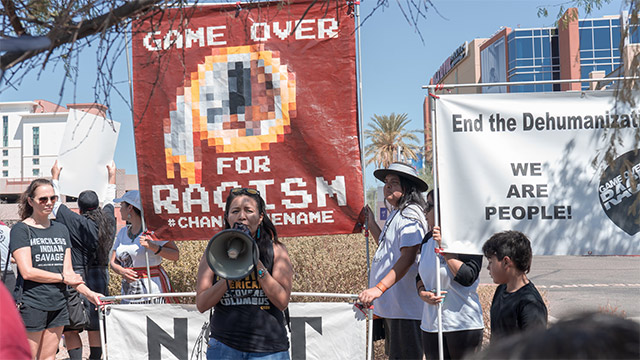 More in Documentary
Faith Howe
Canada, 2022, 81 min.

The Nature of Healing is the frank and raw spoken truth of seven courageous people who survived the Mohawk Institute, Canada's first and longest... more ›

Sandy Cummings
United States, 2023, 78 min.

Space, Hope and Charity is the deeply personal story of Charity Woodrum, a University of Arizona PhD candidate who overcame childhood poverty and... more ›

Ahsen Nadeem
Ireland, 2022, 97 min.

After decades of living a secret life, a filmmaker travels to a strict Japanese monastery in search of guidance but the only monk who will help him prefers ice... more ›