KING OF KINGS: Chasing Edward Jones
Harriet Marin Jones
France, 2022, 98 min.
In English.
This film is family friendly.
AIFF Award Winner:
Best Foreign Documentary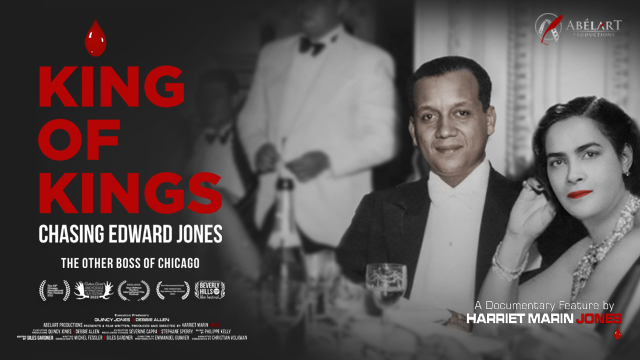 Gangster for some, philanthropist for others, who was really Edward Jones? In the '30s and '40s, this descendant of slaves becomes one of the richest men in the United States thanks to the Policy business, an illegal numbers game, that ultimately became the modern State Lottery. But in these times of segregation, his success and unfailing support to the African American community become a problem. In conflict with both the mob and the Feds, he is forced into a life on the run.
Director's Statement
King of Kings takes an in-depth look at the life and legacy of Edward Jones, the most famous Policy King of all times. As his granddaughter, I'll expose the lasting repercussions of his untold story, both within my family, and for Chicago's South Side where he once embodied the American dream. Love, glory, violence, exile, success, revenge, murder, betrayal, prison, kidnapping… Edward Jones' story holds all the best ingredients of an epic gangster movie. Add segregation and you have a very explosive cocktail! Even though it took me years to do the research and finance the film, as a filmmaker, I could not have asked for a better story.
Category: Documentary, Award Winner.
Themes: Biography, Family, World Cinema.
More in Documentary
Isaac Dudley
United States, 2022, 11.5 min.

An optimistic conservationist teams up with a jaded record holder to tell the story of the Verde River in Arizona, one of the state's last free flowing rivers... more ›

Faith Howe
Canada, 2022, 81 min.

The Nature of Healing is the frank and raw spoken truth of seven courageous people who survived the Mohawk Institute, Canada's first and longest... more ›

Junce Ye
China, 2022, 90 min.

It tells the story of Xia Boyu, the first Chinese double-amputee climber to have reached the summit of Mount Everest. He lost his feet to frostbite in 1975,... more ›