Signs of our Times
Lisa Birke
Canada, 2022, 10 min.
In English.
This film is family friendly.
AIFF Award Winner:
Best Experimental Short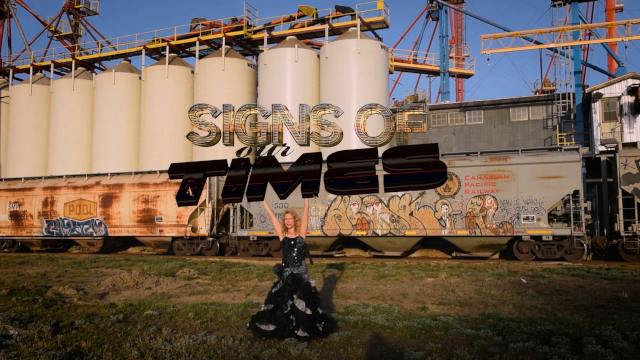 A seemingly endless parade of empty platitudes and paradoxical life affirmations trouble entitlement and question who determines and owns the American Dream. Original footage serves as visuals for a slightly redacted found audio track from a 1960 film in the public domain called "Your Name Here", produced by The Calvin Company as a spoof on the industrial film.
Director's Statement
Out-of-place in her inexhaustible wardrobe of slinky gowns à la Vanna White, a woman holds aloft a series of digitally composited 3D signs, advertising platitudes to a barren landscape, yet marching to a soundtrack full of pretension and nationalism. Empty yet prescriptive, tongue-in-cheek phrases such as "live large" and "survival of the fittest" create uncomfortable juxtapositions with the public domain audio track produced by The Calvin Company as a spoof industrial film production in the 1960s (eerily ahead of its time). The juxtaposition brings up questions of entitlement, colonialism, how meaning is created and demanded of our lives by society and mass culture, for whom, and at what cost?
Category: Experimental, Award Winner.
More in Experimental
Martin Gerigk
Germany, 2023, 5 min.

Night Ride from LA is based on a real car ride at night from downtown LA to the desert near Palm Springs a few years ago. The footage was taken from... more ›

Patrick Moser
United States, 2023, 4 min.

Elements of hand drawn stop animation, puppetry, painting and monotype printmaking combine in this poetic video narrative imagining a phantasmagoric visit from... more ›

Kai Carlson-Wee
United States, 2022, 2 min.

Nomad Palindrome captures a transient lifestyle that moves both forward and backward at once. The poem in the film is a palindrome... more ›