A Boat for My Brother
Matthew Boyd
United States, 2023, 14 min.
In English.
Includes adult language.
AIFF Award Winner:
Best Documentary Short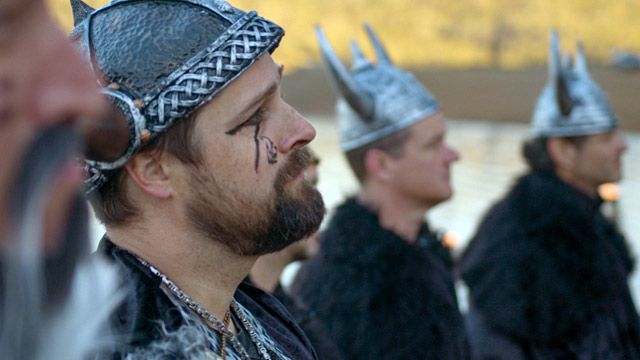 After the tragic death of his little brother, Johnnie Oberg sets out to put on a Viking funeral in his honor, an ode to their late father's Scandinavian heritage. A custom-built boat, flaming arrows, and a California lake steeped in childhood memories sets the stage to make this wistful last wish a reality.
Director's Statement
The original intent of this project was simple, to document this unique memorial ceremony for my friend. I was immediately intrigued by the idea of capturing this once in a lifetime event, the convergence of nature, ritual, archery, and fire. In the end, the project became a powerful medium through which my friend could process his grief, a form of catharsis beyond anything he expected. His mother, Regina, also died unexpectedly only days before the editing was completed, so this film is in honor of her as well.
Category: Short Doc, Award Winner.
Themes: Family, Relationships.
More in Short Doc
Ajuawak Kapashesit
United States, 2023, 11 min.

Watch as three Ojibwe residents of Minnesota work to revitalize their language. Using modern technologies like film and video games, social media, and radio,... more ›

Naomi Garcia Pasmanick
United States, 2022, 9 min.

Emmanuel Blackwell III establishes Swap Film .Co, a small film processing company that also creates a tightly knit community of San Francisco photographers... more ›

Leslie Ann Epperson
United States, 2022, 6 min.

Sunrise in the Santa Rita Mountains of Southern Arizona. Tohono O'odham runner Marlinda Francisco receives a blessing from Austin Nuñez, Chairman of the... more ›