The Nature of Healing
Faith Howe
Canada, 2022, 81 min.
In English.
Includes violence.
AIFF Award Winner:
Special Jury Award for Bridging Cultures
The Nature of Healing is the frank and raw spoken truth of seven courageous people who survived the Mohawk Institute, Canada's first and longest running Indian residential school. Featured are children of the Mohawk Institute, Grandfather Jimmie Edgar, who narrates with his poem, Grandmother's Voice, Elder Bud Whiteye, Elder Blanche Hill-Easton, Elder John Elliott, Grandmother Roberta Hill, Grandmother Dawn Hill, Grandmother Sherlene Bomberry, and guest appearance, daughter of Survivor, Shelley Clark. Victims to survivors, to activists, the documentary is a story of resistance, resilience and healing told personally and for all the thousands of children who never could.
Director's Statement
I was truly honoured to sit as the camera rolled and bear witness to whatever was shared, including child abuse in all its forms. I shared my weeks with the people on my editing screens and fell deeply in love with each of them. Every single sentence holds significance. We bring The Nature of Healing, to audiences believing they too will have a profound experience with this truth. May we bravely face and repair the dehumanization that happened to the Indigenous People across Turtle Island. May they continue to graciously teach.
Category: Documentary, Award Winner.
Themes: Education, Indigenous, World Cinema.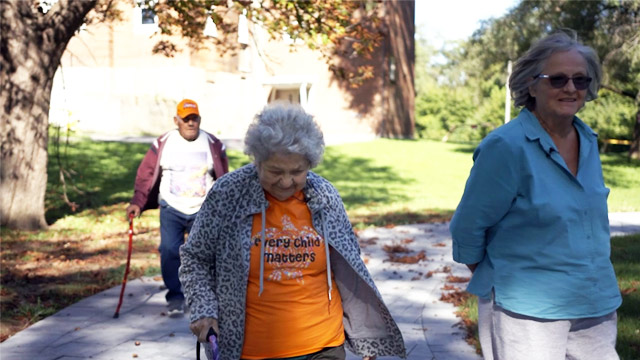 More in Documentary
James LaMonte
United States, 2023, 82 min.

A K-9 Hero develops PTSD while severing. Scheduled to be put down and a chance encounter with a K-9 trainer starts a journey of love and healing. Introduction... more ›

Will LaCalle
United States, 2023, 40 min.

Andrew After Angola follows a re-entry program created to help former prisoners rebuild their lives in Louisiana and explores the complex... more ›

Luis Reyes
United States, 2022, 62 min.

Groundbreaking Mexican-American character actor Pepe Serna finally takes the spotlight in Luis Reyes' joyous ode to Serna's life and the... more ›